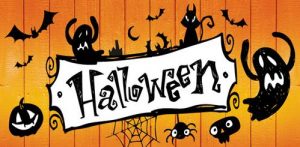 SAVE THE DATE: 24 OCTOBER, 2019
TIME: 4pm – 5.30pm
Dear PARENTS,
Here is some more information about HALLOWEEN PARTY.
On Halloween the kids are allowed to wear their costumes all day (except facemask).
3.00 pm
A scary story reading will be organized in every PYP classroom by MYP students.
3.00-3.30 pm
Arrival of the parents who will help at organizing the party.
We will decorate the hallway and prepare everything for the party.
The classrooms will be decorated by the students in the afternoon care (parents could also arrange to help with the decoration).
4.00 pm
THE HALLOWEEN PARTY STARTS
Donuts, tea and water for the party will be served on the PYP hallway (2-5 grades).
Since there is a renovation of the kitchen going on, we have decided to prepare a Halloween party in a different way. In each PYP classroom will be organized some activities.
K1 and K2: kids will have their own piñatas party in their home classroom.
1M classroom: kids will have their own piñatas party in their home classroom.
2M classroom: PUMPKIN CURVING and different HANDICRAFTS and FACE PAINTING.
3M classroom: DONUT BITING and popcorn.
4 M classroom: different Halloween games – GAMES ROOM.
5 M classroom: slime making and trick and treat.
ART classroom: PIÑATAS AND MUSIC
·         First: 2M and 3M
·         Second: 4M and 5M
·         Third: THE WHOLE MYP
5.30 pm
END OF THE HALLOWEEN PARTY.
Parents are kindly asked to help us with cleaning the classrooms.
Halloween for the MYP
As part of the Community service the MYP could help parents with supervising the PYP students and helping the students at the stations. The MYP students should apply to Ms Tadeja Galonja and Ms Mateja Kores.
We are trying to involve MYP students more in the party. Please encourage them to join the party.
Kind regards,
PTA