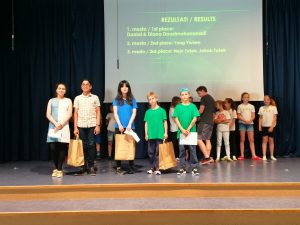 On Wednesday, 12th June, following on from auditions the previous week, the annual talent show took centre stage and paved the way for 10 fortunate acts to show their talents to the school community. Performances spanned a wide variety of the arts and included: dance, ballet, break dance, song, Chinese song & guitar, piano and violin. All presentations were heartfelt, passionate and unique, with the assembled crowd warmly appreciative. Following a short time for the judges to discuss and adjudicate on the acts, the first, second and third place prizes went to:
Joint first: Danial & Diane Doustmohammadi – Piano
Second: Yang Yichen – Chinese Song & Guitar
Third: Nejc & Jacob Tušek – Break Dance
A huge congratulations to the Winners and all the performers!