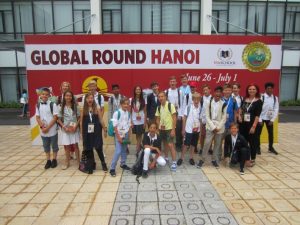 Photo 1 Danila Kumar International School junior students before the team debates

Are you from Slovenia? "That's correct", I answered. "I just adjudicated one of your teams. I'd seen and adjudicated many debates before and I've never seen anything like it. I swore to myself I needed to speak to you". "Oh dear", I thought to myself. On the way to Hanoi one of our students lost his passport, another one his travelling money pouch, and the third one managed to forget his entire suitcase in the airport lobby when leaving for our hostel. So when the teacher approached me in the break between the debates, I sincerely did not know what to expect. Luckily, this time, there was no need to fear.
The adjudicator turned out to be one of the coaches from an Irish school and he explained he had never heard such a well-structured and convincing speech from the mouth of a child. He commended the work of our coaches by saying that he did not know how we guided our students in their learning but evidently we were doing a great job and should continue to work in the same way. And to some extent he was absolutely right in commending our work. The school gives and teaches pupils a lot, and no extracurricular activity can ever reach its mission without the support of a quality school and parents. It is, at the same time, equally true that our mentors of the World Scholar's Cup invest hours and hours of work into upgrading their, and their pupils' skills, and knowledge, each year, and thus, people's responses and our results are becoming more and more noticeable. This extracurricular, or perhaps a better expression would be co-curricular activity, is based on the World Scholar's Cup, of which, the Ljubljana regional round 2017 was held at Danila Kumar International School for the third time in a row. Students studied six subject areas under the common theme: An Unlikely World (Literature, Science and technology, Social studies, Music and art, History and a special area of modern mythology).
After the success at the Ljubljana regional round, twenty-three students, mentors Nik Arcet, Katarina Lovenjak, Jasna Lavrenčič, the head of the international department Mrs Šteblaj, and a few parents took off for the World Scholar's Cup Global Round in Hanoi. Our students competed in three age groups: skittles division (10 to 12 years), junior division (13 to 14 years) and senior division (14 to 18 years of age). They competed against 3600 students from over 35 countries in team debates, collaborative writing, Scholar's bowl and Scholar's challenge.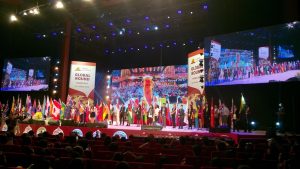 Photo 2: The representation of all the participating countries at a ceremony in Hanoi
When the Irish coach pointed out that our students were exceptional, I immediately knew what he was talking about. It is one thing to teach the students how to structure arguments and develop them content-wise, but it is another thing to teach them how to be convincing and also presentation-wise. Moreover, very often the latter makes our teachers reach above and beyond to extract the best out of each student.
Young people in Slovenia have infinite possibilities, both in, and outside school to present to an audience – in oral or written form. Children begin to make their oral presentations at a very early age, in kindergarten and elementary school. They can perform in plays, sing, recite, participate in or eventually lead workshops, as well as write poems, articles, essays, and research papers, etc. All of this and much more is possible, as long as they only wish to use their opportunities. Due to my profession, I often find myself in the role of the audience. Nonetheless, I admit that the thoughts that pass through my mind too frequently are that as much as a performance or piece of work is in all regards correct, it does not necessarily exceed my expectations in any way. In other words, the "wow-effect", which only happens when someone is really convincing in their communication – normally, effort would have to be put into this consistently several years in a row – is often missing. One of these breakthroughs happened for our student Karlo Vidovič this year, as he was selected to take part in the Debate Showcase in Hanoi as one of the eight most convincing speakers of the entire junior category. And that was not all. One of our teams was ranked 1st in the skittles category, David Safro acheived first place in debating among the youngest, and Aniket Godbole was 14th in the junior category among more than 1800 debaters. Our students have certainly "wowed", and reached and exceeded our coaches' expectations by far this year.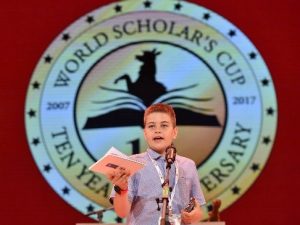 Photo 3: Karlo Vidovič in the Debate Showcase
In addition to participating at the competition, our students had the opportunity to get to explore other cultures and present their talents in front of nearly 2000 students, coaches and parents in a multicultural show called "Ljubljana in the spotlight of festivals" (Ljubljana v luči festivalov in praznovanj) choreographed by Ms Katja Petric, our student Nina Samardžija and myself.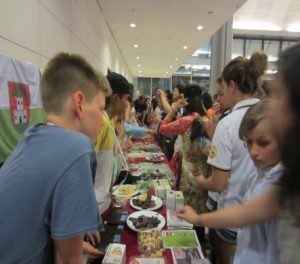 Photo 4: Cultural fair
At this point, we would also like to express our sincere gratitude to donors (companies Eles, JP Vodovod-Kanalizacija, Efaflex, DRI upravljanje investicij and the Municipality of Ljubljana) and our teacher Ms Petra Cerar, who guided the whole team of Slovenian coaches and students in preparing for the Cultural Fair and presenting Slovenia with its endless beauties, traditions and delights. Thanks to companies and brands such as  Čokoladnica Cukrček, Mlinotest, Šumi, the Ljubljana castle and I feel Slovenia, our students were able to share promotional material (brochures, t-shirts, stickers, key rings, pens, balloons, etc.), food (chocolates, sweets, chocolate honey, Slovenian potica, different pastries and pasta), present the geographical and historical characteristics of Slovenia (with the help of photos and leaflets), and teach visitors some basic phrases in Slovenian (as 6th grade students from our national department were so kind to prepare a number of language games for this purpose). That is why events like the World Scholar's Cup Global Round give a great demonstration of how such demanding projects can succeed with the help of so many positive-minded people, and a common spirit.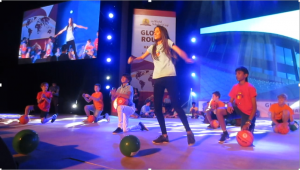 Photo 5: Multicultural show performance
Many people wonder where our mentors get all their energy to carry out the WSC activities. During lessons and through self-study, both pupils and mentors learn from mistakes, give constructive criticism, and consciously try to improve. For example, the pupils who excel in oral expression, usually make the greatest progress in this area, and a slightly less noticeable improvement in writing, and vice versa. Perhaps this will come as a surprise, but one of our main principles in these extracurricular activities is "strengthen your strengths" – and become "unbeatable" in them. The same goes for the mentors. One can quickly find an area of strength and interest and thus, further develop it by being intrinsically motivated. Yet, an additional motivator is by all means also the feedback given to our students and mentors. For example: "This was incredible! I have heard and seen many speeches, attended many workshops and trainings in my career but I swear that even many professional speakers do not have such an accomplished performance as your student." Or: "It's difficult to express in words how grateful we are for the effort of your entire team. If only someone were to teach us all this when we were their age." By saying this, we would like to thank the entire team of mentors (Petra Cerar, Nik Arcet, Katja Petric, Klemen Strmljan and Mateja Kores) for the coordination and implementation of the WSC activities, and the head of the international department Ms Irena Šteblaj as well as our headmistress, Ms Mojca Mihelič for helping and supporting us. Along with all the positive thoughts, supportive parents and enthusiastic students, they encourage us to do our work well and heartily. Hopefully, in the years to come, many more students will wish to join in and use the opportunity to celebrate learning with the rest of the scholars.
Nik Arcet and Katarina Lovenjak
BEST RESULTS FROM
THE WORLD SCHOLAR'S CUP HANOI GLOBAL ROUND
5m – 8m and 7th – 9th razred, 26th June – 1st July 2017
SKITTLES DIVISION (over 350 scholars, aged 10-12)
OŠ Danile Kumar Top School Scolars:
David Safro (3rd place overall, Top School Scorer, Slovenia Top Scholar, Europe Top Scholar)
Benjamin William Weeks (25th place overall, 2nd place in Europe)
Top teams in Europe: Benjamin William Weeks, Nina Anastazija Samardžija, David Safro (1st place)
Champion Teams: Benjamin William Weeks, Nina Anastazija Samardžija, David Safro (8th place)
Top Debate teams: Benjamin William Weeks, Nina Anastazija Samardžija, David Safro (1st place)
Individual debate champions: David Safro (1st place)
Scholar's challenge winner in the subject Science: Benjamin William Weeks
JUNIOR DIVISION (over 1800 scholars, aged 12-14)
OŠ Danile Kumar Top School Scolars:
Aniket Godbole (45th place overall, Top School Scorer, Slovenia Top Scholar,  3rd place in Europe)
Karlo Vidovič (116th place overall, 6th place in Europe)
Justin Okai Andraz (317th place overall, 9th place in Europe)
Top teams in Europe
Karlo Vidovič, Aniket Godbole, Justin Andraz Okai (3rd place)
Val Enej Jenko, Mark Varlamov, Nejc Škorjanc (9th place)
Mik Marter, Sviatoslav Peleshchak, Domen Škerlep (11th place)
Individual debate Champions:
Aniket Godbole (14th place)
Karlo Vidovič (34 th place)
Val Enej Jenko (71th place)
Champion scholars: Aniket Godbole (45th place)
Teams which qualified for "The Tournament of Champions":
Karlo Vidovič, Aniket Godbole, Justin Andraz Okai
Benjamin William Weeks, Nina Anastazija Samardžija, David Safro
Additional qualifiers for Skittles and Junior teams (scored over 20,500 points):
Val Enej Jenko, Nejc Škorjanc, Mark Varlamov
Sviatoslav Peleshchak, Mik Marter, Domen Škerlep
Max Cyrus Tomsich, Bao-Han Trinh, Yen-Minh Phan (mixed team)
Jaka Mikulič, Tristan Ng, Pei Juin Ung (mixed team)
The official WSC Global round Hanoi results can be found at: http://www.scholarscup.org/results/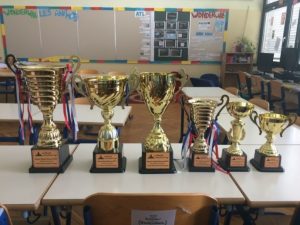 Congratulations to all the participants!