Twelve of our students and two of their coaches, Mr Klemen Strmljan and Ms Petra Cerar participated at the prestigious World Scholar's Cup Tournament of Champions hosted by the Yale International Relations Association at Yale University in Connecticut, USA from November 18–22. The delegates from Slovenia competed against 700 of the best students from more than 50 countries around the world.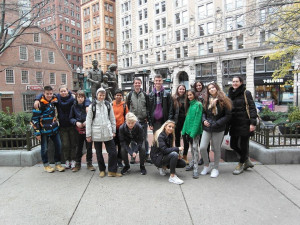 Our students and coaches all said that taking part in the Tournament of Champions was an amazing experience and they have all learnt a great deal. The competition was harsh, but our students won many gold and silver medals in various categories. The students gave their best, faced the challenge and proved to be risk-takers, knowledgeable and principled.
We hope many students from our school get to experience the World Scholar's Cup events in 2017 as well, with the Regional round being hosted by our school at the end of January 2017. Many students are already taking part in the extra-curricular activity on Wednesdays and Fridays. Should you be interested in taking part as well, do come and join us as soon as possible.