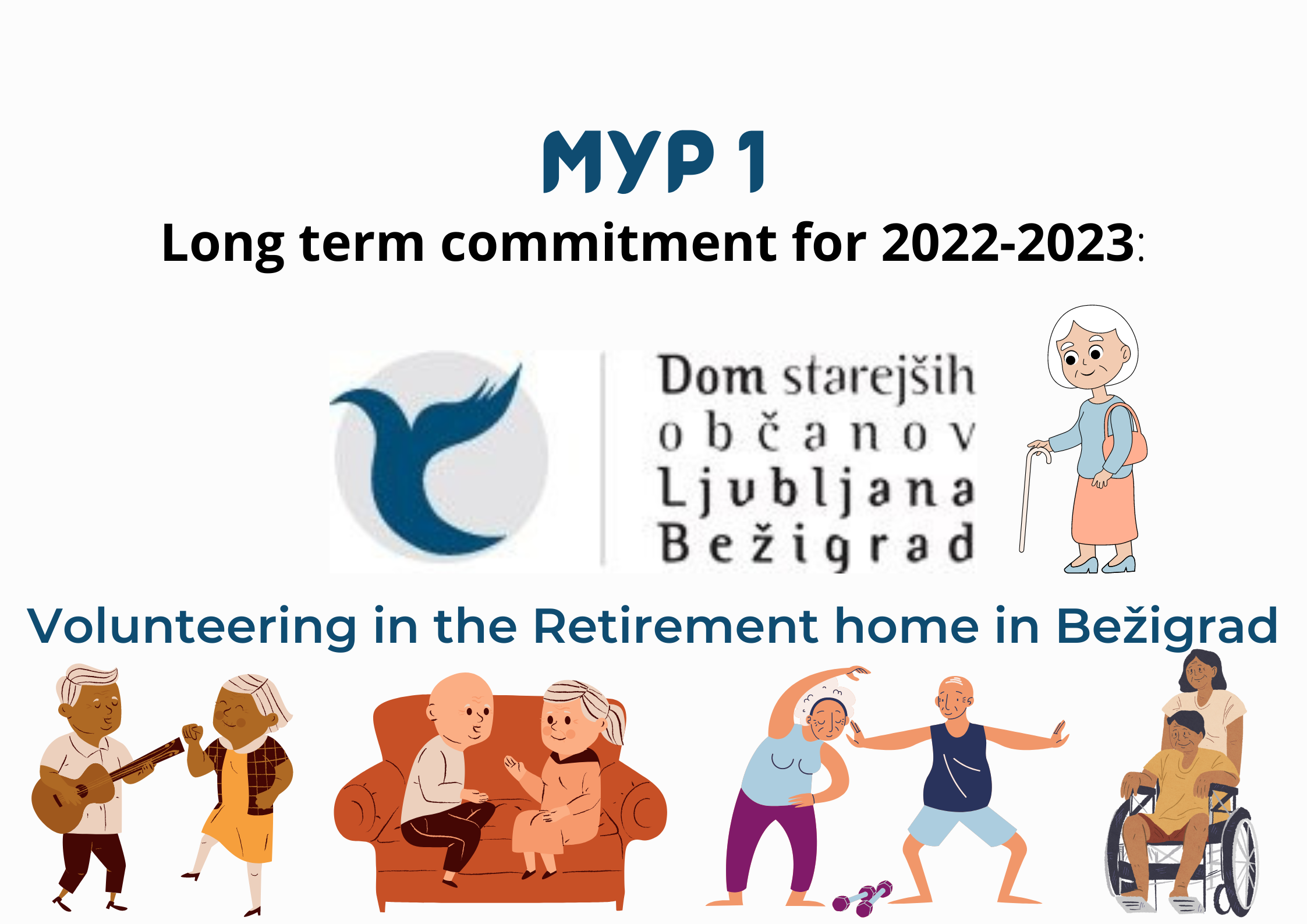 PROCESS
Students will brainstorm their ideas for volunteering, their interests and possible interest and needs of the people from the retirement home.
Students will be divided into groups of five based on their interests (for example: sports activities, arts&crafts…) and each group will be assigned a mentor.
Groups will receive a timetable for when they will visit the retirement home.
Each group will have to prepare activities for two visits in the school year.
The visit will happen once a month, Thursday, lesson 3 (ATL).
The students will be accompanied by Ms. Maja Majnik, and, if possible, their mentor.
Students will have to make sure that they have uploaded all the evidence of their Service as Action including research, planning, evidence of the visit and reflection on their Teams by no later than May 31, 2023.
STUDENT'S RESPONSIBILITIES
Each group MUST:
Be in contact with their mentor regularly.
Have an idea of what they would like to do with the elderly both times they visit.
Do an extensive research of their idea and the needs of the elderly. Respect the academic honesty (cite sources).
Prepare a detailed plan of how they will carry out their idea.
Send the plan to their mentor at least 2 weeks prior to the visit for the mentor to check and approve.
Be responsible and show up on the appointed day of the visit.
Be caring, risk-takers and good communicators when working with the elderly.
Write a reflection on 2 learning outcomes: Collaboration + Challenges and new skills.
Upload all the evidence of their process on their Teams individually by May 31, 2023.
MENTOR'S RESPONSIBILITES
The mentor supports the students throughout the process. He or she MUST:
Ensure the chosen MYP service as action topic satisfies appropriate legal and ethical standards with regard to health and safety, confidentiality, human rights, animal welfare and environmental issues.
Provide guidance to students in the process and completion of the project as well as provide meaningful feedback.
Confirm the authenticity of the work submitted.
Assess the Service as Action.
ASSESSMENT
In order for the student to be promoted to the next grade, each student must complete the long term Service as Action.
He or she will be assessed with descriptors and the grade and comment will be visible in their report card.
| | |
| --- | --- |
| Descriptor | Explanation |
| Improvement needed | Work not handed in./Very limited achievement shown. |
| Satisfactory | Work completed but significant areas of weakness shown. |
| Good | A good performance; the main ideas and skills successfully mastered. |
| Very good | A consistent and extremely high standard of work, including on the more difficult ideas and skills. |